Top 20 Premium Schools in India
"School is a building which has four walls with tomorrow inside" – Lon Watters
A good school definitely determines a bright and shining future. While all parents want to enroll their children in the best school, every kid dreams of studying in a school, which can provide wings to his or her aspirations. You may have heard things that life goes way beyond school and college life, but fact remains that a good school, quality education and an ideal & financially secure living go hand in hand.
Times have changed. Nowadays, the best school not only consists of a qualified faculty, but it is also a variety of facilities that gives the institution an edge over others in this age of cut-throat competition.
Based on overall performance and a host of amenities, here's a list of our Top 20 Premium Private Schools in India in no particular order.
Teacher-Student Ratio – 1:10
Sporting Facilities
Gym
Squash Courts
Sports Pavilion
Multi-purpose Hall for Boxing & Badminton
A 25-Metre Swimming Pool
Basketball & Tennis Courts
Other Facilities
Clubs & Societies
Trips, Tours & Workshops
Art & Media School
Auditorium
The Careers Education, Information and Guidance Department
Dining Hall
Library
Multipurpose Hall
Music School
The Rose Bowl Amphitheatre
Known as 'The Eton of India', The Doon School is undoubtedly one of the best schools in India. An all- boys boarding school for students aged 12-18, it is an institution with an 'intellectual heartbeat'. The school's breathtakingly beautiful 70-acre campus that befriends both flora and fauna helps all the boys to live and learn amidst the lush green and serene. Students are given their own space to focus on both academics and co-curricular activities.
Key Highlights
Qualified and Experienced faculty
Remarkably Well-Planned Infrastructure
A wide range of world-class facilities
Scope for excellent all-round growth
Sporting Facilities
Gym
Swimming Pool
Basketball Courts
Badminton Courts
Rock Climbing
Frisbee
Football/Soccer
Squash
Table Tennis
Volleyball
Other Facilities
The Hanifl Centre – Outdoor Education in the Himalayas
The Centre for Imagination
The Community Engagement Programme
The Global Alliance for Innovative Learning (GAIL) – an international collaboration for innovation in education
The Woodstock School is all about the beautiful, the innovative and the creative. The school's jaw-dropping campus simply leaves you spellbound. This is a school, which encourages students to think innovatively and provides assistance for the same. Be it academics or extra-curricular activities, the students have learnt to carve a niche for themselves here and many a times, have achieved or created the unthinkable. All in all, a complete institution.
Key Highlights
Trained and Visionary Faculty
World-class Infrastructure and Amenities
Golden Opportunities for All-Round Growth & Development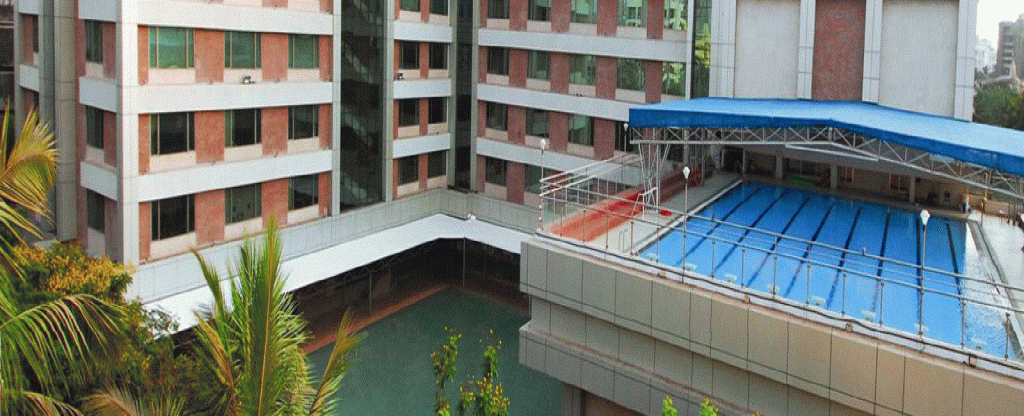 Teacher-Student Ratio – 1:6
Sporting Facilities
Well-Equipped Gymnasium
Swimming Pool
Basketball and Tennis Courts
Table Tennis Court
Other Facilities
Auditorium
Audio-Visual Room
Music Rooms
Art and Design Studios
Drama and Dance Studios
Libraries
Computer Centres
Science and Technology Labs
Activities – Visual Arts, Music, Dance and Theatre
Mumbai is said to be the city of dreams. And located in the heart of Mumbai is a school that lays the foundation of fulfilling every child's dream – Ecole Mondiale World School. It offers a world-class IB education programme, wherein, things like 'global context' and 'approaches to learning' are explored. The best part is that the students are prepared practically for the actual world. Also, since the teacher-student ratio is 1:6, the students get a great amount of individual attention.
Key Highlights
Highly Trained Faculty
World-Class IB Education that makes Students Future Ready
 A Host of World-Class Facilities
Teacher-Student Ratio – 1:7
Sporting Facilities
Swimming Pool
Extensive Sports Fields
Activities – Tennis, Cricket, Football/Soccer, Volleyball & Equestrian Sports
Other Facilities
Boarding Houses
Libraries
40-Seat Cafeteria
Activities – Visual Arts, Music, Dance and Drama
Stonehill International is one of the most sought-after schools in the garden city of Bangalore. There's a fair amount of balance in the focus on academics and co-curricular activities. The state-of-the-art and the purpose-built 34-acre campus really stands out. Moreover, the teaching standards and mediums of learning are highly superior. All in all, a school students will love and an institution that's worth all the money.
Key Highlights
Engaging Learning and Classroom Environment
A Well-Balanced Approach towards Both Academics & Extra-Curricular Activities
Teacher-Student Ratio – 1:4
Sporting Facilities 
A Large Cricket Ground
2 Football Stadiums
12 Basketball Courts
4 Volleyball Courts
Ten Tennis Courts
4 Hockey Fields
Indoor Sports Complex & Gymnasium
2 Centrally Heated Swimming Pools
2 Indoor 10m Shooting Ranges
1 Outdoor Shooting Range
A Nine-Hole Golf Course with a Full-Time Coach
 Activities – One Hour of Daily Yoga Practice Session under the Training of Expert Yoga Teachers
Adventure Sports like Mountaineering and Horse Riding
Other Activities
Performing Arts – Music and Dance
Uniformed Gentry – Sea Cadet Corps and Bands
Youth Leadership Programmes – International Award for Young People
Awards
Golden Leaf Award for Excellence in School Education
Lifetime Achievement Award for Founder & Principal Dr. P.C. Thomas
The Best International Residential School Award
Outstanding Achievement Award – First in Math
One of the best boarding schools in India, the Good Shepherd International School continues on its merry way after 42 successful years. It boasts of a highly qualified and trained faculty, top class sporting facilities and numerous interesting activities and programmes, something that has ensured excellence in all three arenas – academics, sports and art. There are two lecture theatres and more than two sports complexes, both leading to a healthy all-round development of the students.
Key Highlights
Holistic Learning
Highly Qualified and Professional Staff
State-of-the-art Facilities and Infrastructure
Teacher-Student Ratio – 1:10
Sporting Facilities
Games and Sports: Hockey, Football, Cricket, Athletics, Basketball, Tennis, Squash, Table Tennis, Horse Riding, Skating, Archery, Shooting and Swimming
ENV Park & Golf Course
Equestrian Facilities for Equestrian Sports & Polo
9 hole Golf Course • Polo Ground & Stables with 75 thorough bred horses  • 400m Athletic Track and 110m Obstacle Race Hurdles Track  •  2 Cricket fields, which include a turf wicket with separate cricket nets  •  Shooting Range •  Wall Climbing  •  14 Tennis courts – Clay & Artificial Turf • 5 Squash courts • 4 basketball courts •  5 Soccer fields • 2  Hockey fields • 2 swimming pools
Other Facilities
Cultural Activities: Indian Music, Western Music, Dramatics & Debates
Clubs & Societies
Boarding Houses
Library
Kangra Amphitheatre
Museum
Technical Skills Development Centre
Known for its rich culture and heritage, Mayo College has always come out on top with outstanding board results. Not only in academics, but Mayo students have also done immensely well in the sports arena. Holistic education ensures the all-round development of the child. Possessing a 187 acre lush green campus, students are encouraged to spend time outside. The Mayoites are one lucky bunch, and the school ensures in the end that there's absolutely nothing a Mayoite can't do!
Key Highlights
Holistic Education
Excellent Faculty and Sports Infrastructure
18 Co-curricular programs, 20 hobbies and almost 30 societies, including metal sculpting, woodwork, glass molding and sculpting, drone photography, 3 D printing, etc.
Campus with a hospital, temple, post office, bank, barber, canteen, store, guest house, museum, stables, golf course and even a lake.
The campus is centrally networked with state-of-the-art IT facilities. Parents can view their son's academic, health and extracurricular records and accounts through the Electronic Information Management System from anywhere in the world.
Every year, Mayo College sends students on an Exchange Program with schools in UK, Germany, South Africa, Australia and USA for 3 months during summer vacation. That way, the students gain good global exposure.
Teacher-Student Ratio – 1:9
Sporting Facilities
BCCI-certified Cricket Stadium
25 Metre Swimming Pool
Air-Conditioned Gym
Roller Skating Rink
20 Sports Arenas
Games and Sports: Hockey, Football, Cricket, Athletics, Basketball, Tennis, Squash, Table Tennis, Horse Riding, Skating, Archery, Shooting and Swimming
Yoga
Traditional Indian Games: Kho-Kho and Kabaddi
Indian Fun Games: Pitthhoo, Gilli Danda, Kite Flying
Cerebral Games: Chess
Adventure Sports: White Water Rafting, Trekking, Rock Climbing & Mountaineering
Awards & Accolades
Ranked #2 Boys Boarding School for Two Consecutive Years by EW
Have you ever come across a school, which has principles and policies comprising complaint policies, disability policy, code for self-discipline, parent child mechanism and the all-important anti-ragging message? Well, The Scindia School is one such institution. This school believes in teaching the students to both learn as well as lead, by instilling a progressive and global mindset, yet retaining the Indian values.
Key Highlights  
Spacious 160-Acre Campus
A Library Housing 11,000 Books
30 Smart Classrooms
5 well-equipped Computer Labs with 200 desktops & 400 laptops
A 1,500-seater Amphitheatre
Holistic Education
Counselling Facilities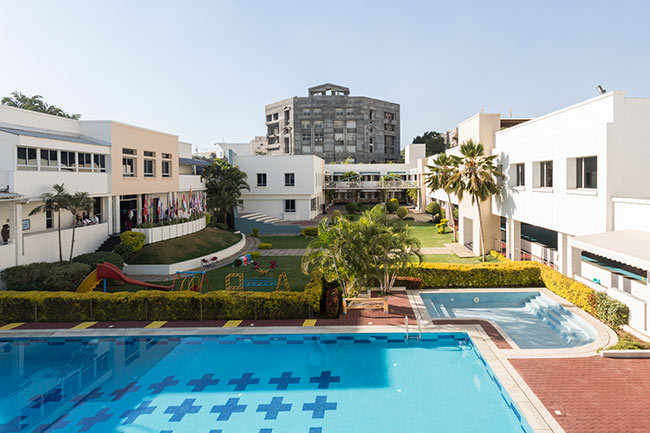 Teacher-Student Ratio – 1:4
Sporting Facilities
   Swimming Pool
   Huge Playground
   Sporting Activities: Cricket, Football, Volleyball & Basketball
Other Facilities
Library
Laboratories
Activities – Musical Concerts Performed By The Primary Choir
Having completed 20 years in the sphere of international education, Mercedes-Benz School is India's first 3-Programme IB World School and currently, the only fully accredited International School in Pune. Having a small student body of 360 students from over 30 nationalities, Mercedes-Benz values and enjoys the benefits of being 'a small school with a family feel'. Due to the low student-teacher ratio, teachers are able to pay much more attention to each and every student.
Key Highlights
Structured & Well-Planned Curriculum
World Class Amenities & Facilities
Top Class Education Standards
Exceptional Results in the Academic Sphere
Excellence in Extracurricular Activities
Student Teacher Ratio – 10:1
Sporting Activities
Badminton (4 International Standard Badminton Courts)
Horse Riding (paid activity)
Athletics
Basketball Football
Tennis
Table Tennis
Martial Arts
Performing Arts
Dance – Classical/Folk/Fusion
Vocals – Semi Classical & Western & Instrumental Music
Theatre – Club Activity
Literary Club
13 Scholastic & Co-scholastic Labs
20+ Co-curricular Activities
10,000+ Books in the Library
Through mentoring, Ganges provides students a strong yet loving support that helps in their intellectual growth and emotional development. Going green, being grateful and giving back to the society are the values the school instills in every Gangian. Gangians sure know how to step up and step ahead. That's #TheSpiritOfGanges!
Key Highlights
8-Acre Campus – Wi-Fi enabled and air-conditioned classrooms
24×7 CCTV Vigilance
Individual Development Programme (IDP) that focuses on every single child
Empowerment of Faculty through Continuous Professional Development
Dynamic Curriculum Embracing the Best Pedagogical Approaches through Research & Development
Teacher-Student Ratio- 1:8
Sporting Facilities 
Skating Rink
2 Basketball Courts
2 Lawn Tennis Courts
One Half Basketball and Lawn Tennis Practice Court
Open Air Theater
Neoteric Multi-Purpose Hall
2 Indoor Basketball Courts
Six Badminton Courts
 3 Table Tennis Courts
Indoor Olympic Size Swimming Pool
Football Ground
Hockey Field
200-Meter Athletic Track
Three Roof-Top Lawn Tennis Courts
A Modern Squash Court
Gymnasium
Yoga Room
Martial Arts Room
State-of-the-Art Shooting Range
Other Facilities
Well-Equipped Art Studios
Fine Art
Activities – Drawing, Painting, Craft, Pottery, Ceramics, Photography, Sculpture, Textile and Graphic Design
Performing Arts
Activities – Dance (Indian Classical & Western), Theater and Music
Rating & Ranking
Voted India's 'Girls' Residential School' to achieve the prestigious 'Five Star Gold Rating' from the Council for Standards and Education Reform, World Education Foundation, UK
In the Nationwide Survey conducted by the 'Education World India School Ranking' – In the category of the 'Top Girls' Residential School'- In the top three in India
An All-Girls' Residential School, the Unison World School has made a mark in the education world, thanks to their student-centric, value based learning and education system with a host of opportunities for individual growth and development. They believe in 'putting their girls first' and empowering every young 'Athena'. With the finest academic, co-curricular and living facilities, the Unison World School is indeed a complete package.
Key Highlights
World Class Facilities
State-of-the-art Campus
International Curriculum
Finest Accommodation
Committed, Qualified Faculty and Experienced Staff
Teacher-Student Ratio – 1:6
Sporting Facilities 
Gym
Squash Courts
Sports Pavilion
Multipurpose Hall for Boxing & Badminton
A dedicated air-pistol shooting gallery
Yoga Pavilion overlooking the valley
Awards & Accolades –
Ranked No. 1 Co-Educational Boarding School in Dehradun
Ranked No. 2 Co-Educational Boarding School in Uttarakhand
Ranked Among Top 10 Co-Educational Boarding Schools in India
Nestled amidst the scenic surroundings of the picturesque Mussoorie hills, Kasiga is another name for ideal schooling. It encapsulates everything, right from a plethora of impressive facilities to a super positive classroom environment, and welcomes students from all over the country and worldwide. The school always aims to create the right base and lay the correct foundation for students, and keeps improving the education and learning standards. And yes! Kasiga follows both the CBSE and the CAIE curricula. Under the guidance of an experienced faculty with immense expertise, the students have no option but to feel confident enough that they can emerge with flying colours. In fact, Kasiga and academic excellence are inseparable. The institution also takes a great amount of pride in nurturing and producing all-round talent.
Key Highlights
Experienced & trained faculty
 A bouquet of world-class amenities
 An optimistic classroom environment
Teacher-Student Ratio – 1:7
Sporting Facilities 
Playground
Tennis Court
Basketball Court
Volleyball Court
AstroTurf Football Field
Yoga Room
Other Facilities –
Centre for Performing Arts
Multipurpose Auditorium
Learning Centre
Medical Centre
Wi-Fi enabled Campus
Cafeteria
Awards & Achievements 
Ranked the No. 1 International School in India for 6 Consecutive Years
Ranked the No. 1 School in Mumbai for 5 Years
Ranked the No. 1 'National + International Curriculum' School in Mumbai for 2 Consecutive Years
Ranked the No. 1 School in Academics in India
Ranked the No. 1 ICSE School in India
Ranked the No. 1 International School in Mumbai and Maharashtra
Recognized as India's premier international school, and also holding a prestigious position among the top five IB schools globally, the motto of Dhirubhai Ambani International School is – Dare to Dream… Learn to Excel. As the Founder & Chairperson of the school, Nita Ambani, rightly says – DAIS is a 'happy school, where teaching is a pleasure and learning is a joy'. Also, among the few schools in India to be jointly accredited by the Council of International Schools (CIS) and the New England Association of Schools and Colleges (NEASC). Well, what more can students and parents ask for?
Key Highlights
Unique Open School Design
Well-equipped, IT-enabled classrooms with multimedia projectors
Safe Campus with Modern Security Systems
Successful Education Model – International School with an Indian heart, mind & soul
State-of-the-Art Facilities
Holistic Education
Teacher-Student Ratio – 1:9
Sporting Facilities –
Acrobatics
Athletics
Badminton
Basketball
Breathing Yoga
Cage Football
Cricket
Cycling
Field Hockey
Fitness
Football
Frisbee
Kayaking
Rugby
Swimming
Table Tennis
Tennis
Triathlon
Volleyball
Water Polo
Yoga
Other Facilities –
Creation –
Chess Club
Artifesto
Cooking Club
Creative Writing
IT Club
MUWCI Times
Paper Making
Stitching, Knitting and Embroidery
Dance –
Bollywood
Flashmob
Hip Hop
Indian Classical
Latin
Modern
Swing
Music –
A Capella
Guitar Club
Individual Music Practice
Music Group
Sitar
Tabla
Theatre –
Library
Housekeeping and Food Services
Transport Services
Now, this is one school, which is really different as it inspires students to create a more peaceful and sustainable future. Hats off! It nurtures and educates activists as well as future leaders who will go on to identify and resolve the conflicts and challenges within societies, and spread peace and stand up for justice in the world.
Key Highlights
Education Model – Designed on the idea that Learning takes place Everywhere –Not only in Classes
Teacher-Student Ratio – 1:30
Sporting Facilities
Cricket
Football
Hockey
Swimming
Athletics
Basketball
Lawn Tennis
Squash
Table Tennis
Volleyball
Badminton
Gymnastics
Skating
Shooting
Snooker
Billiards
Chess
Diving
Other Facilities 
Societies & Clubs
Naturalist Society
Art Society
English Dramatics
Hindi Dramatics
Debate Society
Quiz Club
The Western Music Society
The Indian Music Society
Photography Club
Established way back in 1869, Sherwood College is widely recognized as one of the country's best and most sought-after boarding schools. It is the ideal co-educational residential institution, a prestigious school people look up to. Its 45-acre campus with eye-soothing greenery, located amidst the Shivalik Ranges of Nainital, is so inviting that it will make you opt for Sherwood right away. Besides, they give a fair amount of importance to all three arenas – Academics, Co-curricular Activities as well as Sports Education. The likes of Amitabh Bachchan have studied here.
Key Highlights
Classrooms with Smart Boards
State-of-the-Art Science, Computer and Robotics Labs
Two Auditoriums, One Audio Visual Room & Three Dining Halls
Excellent Infrastructure
Holistic Education
Teacher-Student Ratio – 1:20
Sporting Facilities
Weekly Yoga Classes
Centrally Heated Indoor Swimming Pool
Provisions for the games stated below:
Football
Basketball
Throwball
Table Tennis
Lawn Tennis
Badminton
Roller Skating
Athletics
Track Events
Other Facilities 
Music and Dance Department with 8 full-time faculties
A Well-Stocked Library
Rankings & Achievements
Ranked #1 Best All-Girls Residential School in India for Pastoral Care
Ranked #2 Best All-Girls Residential School in Uttarakhand
Ranked #3 Best All-Girls Residential School in India
Basking in the glory of having completed 34 years of sheer excellence, the Mussoorie International School believes in empowering the aspirations of their girls. In fact, they are not just students, but stars, called as MIStars. Cutting edge education technology makes learning an interesting affair. The motto of the school – 'Traditional Values, Modern Outlook' is evident in the way the curriculum is designed, including an amalgam of traditional Indian values and progressive global ideas.
Key Highlights –
Classrooms with Smart Boards
Provision of Global Education
Well Qualified and Trained Teaching Faculty
Students Bringing Laurels Galore in all 3 departments – Academics, Extracurricular Activities and Sports
Teacher-Student Ratio – 1:7
Sporting Facilities
400m Running Track
 Five International Level Tennis Courts
 Two Basketball Courts
 Two Football Fields
A Cricket Oval
 A Hockey Field
A Full Size Swimming Pool
Golf Course
Horse Riding
A Shooting Range
 Four Table Tennis Tables
 Two Badminton Courts
 An area for Yoga exercises
 A Multi-station Gym
Specified Areas for indoor sports
Adventure Sports
River Rafting
Trekking
Mountaineering
Other Facilities
Creative Art Club
Photography and IT Club
Music Club
Counted among the best CBSE boarding schools in the city, Selaqui International is a beautiful countryside school. With a motto that says – 'Strive to Lead', the institution believes in creating leaders of the future. Selaqui aims to nurture and prepare students in such a way that they can contribute towards nation-building as well as social service. The school, over the years, has also upheld the strong tradition of mountaineering, wherein students go for the Everest Base Camp and Kilimanjaro trip every year.
Key Highlights 
Pollution Free 52 Acres Lush Green Campus
International Exchange Program For Students
Research Based Experiential Learning
Air Conditioned Boarding Houses
WiFi, Smart Classrooms, Monitored & Secure Campus
Excellent College Placements For Graduating Batch
Sporting Facilities 
Playgrounds/courts for soccer, hockey, basketball, handball, volleyball, squash tennis and cricket besides a boxing ring, artificial climbing wall, archery range and gymnasium
Other Activities 
Music, Art, Creative Writing & Public Speaking, Debates, Clubs & Societies
Birla Public School's constant pursuit of excellence in school education has earned it the status of one of the premier residential schools for boys in the country. The school has been amongst the top ten residential schools of India for the last many years and it is a testimony to the fact that the word 'complacency' doesn't exist in their lexical repertoire. On the educational technology front, in addition to state-of-the art educational gadgets, they are working with Google, Extramark and Microsoft to sharpen the skills of the teachers by keeping them abreast of the latest in educational technology.
Key Highlights
International Programmes
Good Parent Teacher Connectivity
Counselling Sessions
Umpteen Activities, Trips & Events
Student Teacher Ratio – 10:1
Sporting Activities
Basketball
Lawn Tennis (ITF Certified)
Cricket
Swimming
Football
Skating
Athletic Track
Other Facilities
Computer Lab
Modern Science Lab
Math Lab
Music Studio
Art Studio
Dance Studio
Medical Centre
Dining Hall
Modern, well-balanced, well-resourced! This pretty much sums up what MM School is all about. MM School is a vibrant and welcoming learning community, committed to creating the best possible educational experience for every child. Their aim is to enable all the children to reach their full potential, thus transforming them into the 'Leaders of Tomorrow.'
Key Highlights
Apple Technology Enabled Classrooms
Spacious & Air-Conditioned Classrooms
Wholesome & Simulating Environment for Education
World Class Infrastructure
State-of-the-Art Sports Infrastructure
Broad, Well Balanced & Relevant Curriculum
Teacher Student Ratio – 1:10
Sporting Facilities
Cricket, Football, Athletics, Basketball, Tennis, Badminton, Table Tennis And Squash
State-of-the-Art Gymnasium
Other Activities And Facilities
Library
School Clubs
Performing & Visual Arts
Sarala Birla Academy (SBA) is one of the leading educational institutions with a 'go international' attitude. Here, the all-round development of students is at par with global standards. Things like the overall personality development of the students, honing their leadership skills and looking after their emotional growth and well-being are given plenty of importance. The students rise to their maximum potential as the best of teachers employ innovation in their teaching methods, supported by modern technology to arouse the intellectual curiosity of the child.
Key Highlights
Events And Activities
International Programmes
Treks & Tours
Boarding Houses
Healthcare and Student Counselling Facilities
Sporting Facilities
-Cricket And Football, Throwball, Basketball, Tennis And Badminton
Other Activities
Debates And Inspirational Readings
Bird Watching
Songs & Chants
Western Folk-Dancing
Fine Art Activities
One of the leading residential schools in India, Rishi Valley School ensures holistic development by providing an excellent educational environment that enables students to grow not only on an intellectual level, but also blossom as a whole. The aim of the school is to create passouts who are not only successful in whatever they do, but are also responsible human beings who remain lifelong learners.
Key Highlights –
Flexible Curriculum
Innovative Teaching Methods
Simple Yet Well Maintained Facilities For Teachers & Students
IOSIGNITE is India's only Education Branding & Marketing Firm. The above list has been curated by our team who constantly work and collaborate with Schools from across the country. If you have any queries you can get in touch with us by clicking here.
Disclaimers: Some the Schools from the above list are our clients. 
Summary
Article Name
Top 20 Premium Schools in India
Description
A list of top 20 premium schools from across India. These are not based on any ranking but on our knowledge of the sector & teaching methodologies.
Author
Publisher Name
Publisher Logo
March - 27,2019 | Posted by: Iosignite